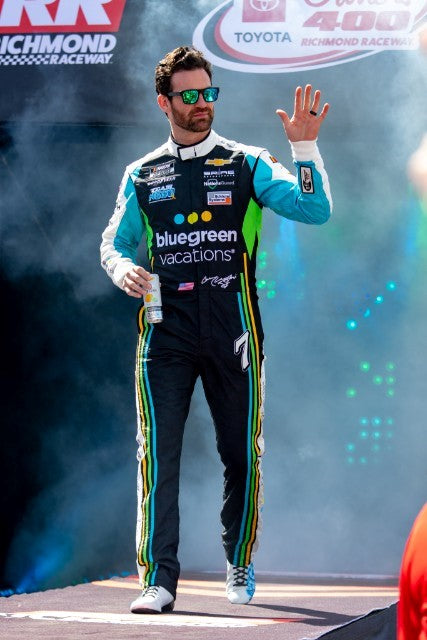 It should not be a surprise that Corey LaJoie has become a fixture among the NASCAR community whether on track for his driving talent or off the track with his social media influence.
And the 2022 NASCAR Cup Series season featuring LaJoie behind the wheel of the new Next-Gen No. 7 Chevrolet Camaro ZL1 1LE could prove to be a year to remember.
The road to NASCAR's premier series hasn't been an easy one, but with a desirable attitude and tackling the grind from the bottom up – LaJoie is assured to be a spotlight in the Cup Series for years to come.
LaJoie is a third-generation racer whose father and grandfather are members of the New England Auto Racing Hall of Fame. Before taking the steering wheel, himself, LaJoie spent his youth at race tracks throughout the country watching his father, two-time NASCAR Xfinity Series champion Randy LaJoie win races and ultimately capture back-to-back Xfinity Series championships in 1996 and 1997 for BACE Motorsports.
Not afraid to work his way up to the top the hard way, LaJoie dove into the top developmental series of NASCAR, including what is now referred to as the ARCA Menards Series East where he racked up six races and the premier ARCA Menards Series where he conquered the best of the best in the now-NASCAR owned series in 2013 with three victories at Chicagoland (Ill.) Speedway, Pocono (Pa.) Raceway and Kentucky Speedway respectively.
Capturing the attention of others in the garage, LaJoie spent the following season building experience to his resume with select starts in the NASCAR Camping World Truck Series, NASCAR Xfinity Series and made his first career Cup Series start at New Hampshire Motor Speedway.
While two Cup Series starts at New Hampshire and Charlotte (N.C.) Motor Speedway were noteworthy, the highlight of the season came in his second Truck Series start where he guided Ricky Benton Racing to a top-10 finish on the demanding Bristol (Tenn.) Motor Speedway.
After qualifying, his No. 92 BTS Tire | Goodyear Fleet HQ | Wynn's Ford F-150 twenty-first, patience ruled the night for LaJoie which rewarded him by delivering the team's best finish of the year.
By 2016, LaJoie had turned his attention to the NASCAR Xfinity Series where in 10 races, he delivered two top-10 finishes for JGL Racing, including a career-best sixth place finish at Dover (Del.) International Speedway.
Challenging work in propelling underfunded equipment in the Xfinity Series launched a full-time career and focus on Cup with stints at BK Racing, TriStar Motorsports, Go Fas Racing and now Spire Motorsports.
With six top-10 finishes to his credit in Cup, including a career-best fourth place finish in the 2023 Ambetter Health 400 at Atlanta Motor Speedway, LaJoie, 30, steers towards his fifth full-year of Cup competition hoping to start his season like he did in 2021 where he captured a top-10 for Spire Motorsports in the prestigious Daytona 500.
Outside the racecar, LaJoie, a native of Concord, N.C. and his wife Kelly welcomed their first child, Levi Ronnie LaJoie, in 2020 and their second child, Jenson Daniel LaJoie, in May 2022.
His passion for charitable work has raised over $240,000 for the Christian organization SamaritansFeet.org. In 2019, he hand-wrote the names of each donor onto his car and attended driver introductions at Watkins Glen International with bare feet, underscoring the need to provide shoes to less fortunate individuals all over the world.
He was acknowledged for his efforts with the 2019 National Motorsports Press Association (NMPA) distinguished Spirit Award.
LaJoie is also a staple on social media platforms and hosts the popular podcast Stacking Pennies, as well serves as a frequent guest co-host on SiriusXM NASCAR Channel 90.